12 Ft ROUND AG Pool Liner Bottom Pad Gorilla Puncture Protection Roots Rock New
12 Ft ROUND AG Pool Liner Bottom Pad Gorilla Puncture Protection Roots Rock New
Gorilla Bottom Pool Liner Padding
For Above Ground Pool
12 Ft. Round
FREE Shipping To Lower 48 States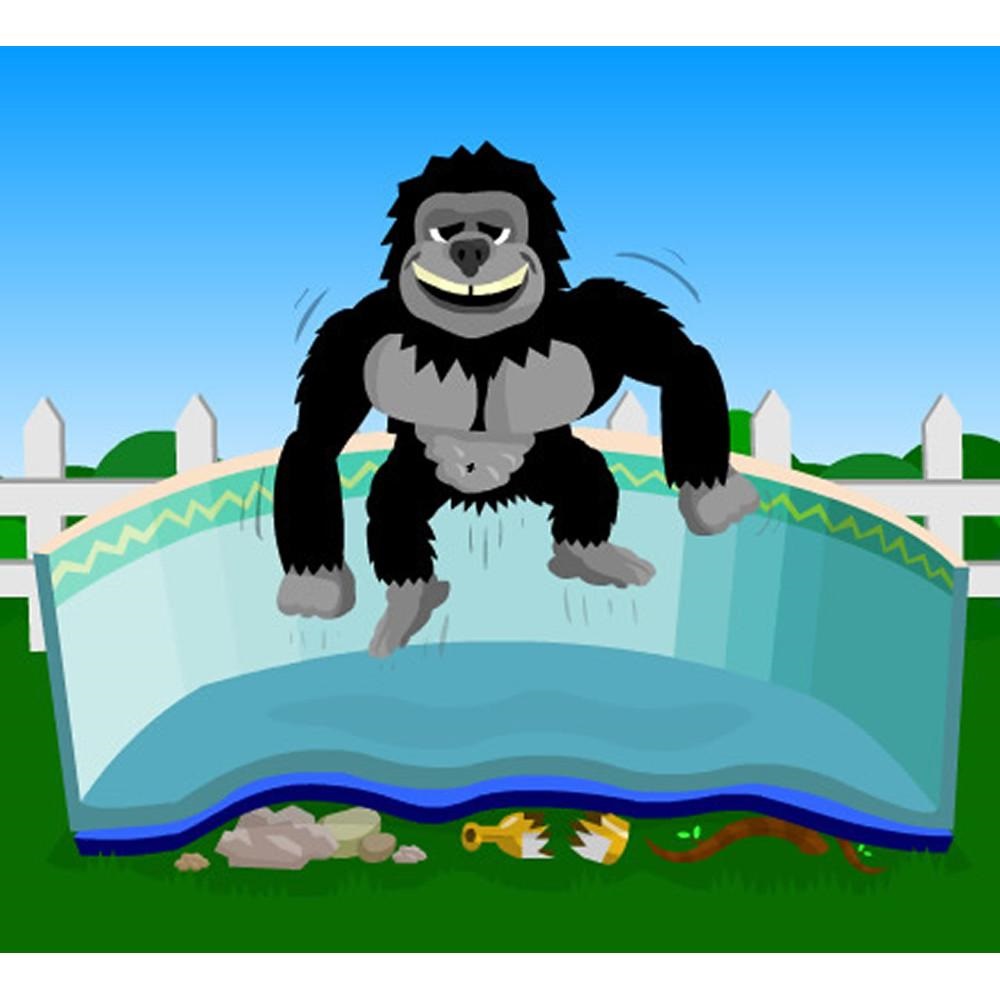 Details
Protects floor of pool liner from punctures

Comes pre-cut to your pool size

Helps eliminate vinyl liner bottom leaks

Provides a layer of cushioning for pool floor
Description
New Gorilla Pad makes old foam floor padding obsolete. Unlike foam, which can be easily cut by grass, roots or rocks under your liner, Gorilla Padding is impervious to almost any sharp object.
Gorilla Padding is a geotextile that was developed to protect trash dump liners where any cut would be a catastrophe.
Gorilla Padding is super tough, but also adds a layer of cushioning that will eliminate footprints from forming.
Gorilla Pad is cut to size and seamed for your pool. No more cutting and taping as with foam. Virtually eliminate vinyl liner bottom leaks with Gorilla Pad. Select the size that fits your pool.
WARRANTY
90 Days Manufacturer Warranty
SHIPPING:

This product normally ships within 5 business days from the warehouse
---
- Pool Stock Availability Disclosure -
Decorate With Daria, Inc. is an authorized broker/dealer for BlueWave and all pool orders go directly to BlueWave who in turn fills your order and handles ALL the customer service and warranty issues.
In order to get you the best possible price and the newest models, all pool stock is warehoused with our distributor and shipped to you directly from our distributor.
There will times when stock availability on some pool models may be back-ordered.
We at Decorate With Daria will notify you immediately if such a back-order situation exists on the model you ordered and will offer you a full and immediate refund if you decide to cancel.
This warranty is provided for all BlueWave Items purchased with their dealers Decorate With Daria, Inc.
Refusal to have Warranty work performed and/or refusal to have defective Pool parts replaced will result in your being fully responsible for ALL shipping charges TO and FROM the BlueWave Illinois Distribution Center and the Pool must be returned undamaged in its original boxes and packing material.
The pool buyer must fill out and mail in all the BlueWave warranty cards that come with the pool system. ALL warranty work and/or warranty issues and ALL repairs and/or replacements are then between the buyer and the appropriate manufacturer of the item(s) or part(s) in question. Decorate With Daria, Inc. does NOT warrant, repair or replace any pools or pool parts.

This warranty shall not apply to any product or component used in any industrial, rental, club or commercial purpose.

Limited warranty on Pool replacement parts. Each manufacturer is solely responsible for and warrants its products to be free of defects in material and workmanship. Parts, which become defective within the warranty period, will be repaired except for damage due to negligence, abuse, misuse, misapplication, unauthorized modifications, improper installation, or normal wear and tear.

Decorate With Daria, Inc. will not be responsible for labor incurred by its authorized service agents per pre-established takes in removing, inspecting and reinstalling the warranty parts. Decorate With Daria, Inc. will not cover any labor costs attributable to disassembly and reassembly of the unit. Decorate With Daria, Inc. will not be responsible for labor costs of the routine maintenance, adjustments or alterations to the calibration of the electrical devices.

This warranty is extended only to the original purchaser and terminated upon transfer of ownership. This warranty shall not apply to any product or component used in any industrial, rental, club or commercial purpose. This warranty shall not apply to any claims arising from the misuse, neglect, accident, abuse, improper installation, including but not limited to exposure to fire or to excessive heat, and other hazards of nature. Under no circumstances will the manufacturer be liable for any special or consequential damages arising from the use of the product, components, and the parts attached, or installed with it. Nor for injury to any person, any claims for damages arising from the use, installation or servicing of the product. The purchaser is responsible for providing adequate access to the equipment so that any necessary service may be performed. The purchaser must establish, by dated sales slip, invoice or deliver receipt, the date of purchase. All costs for removing and reinstalling the Pool including the freight charges to and from customer shall be at the customer's expense.

REGARDLESS OF THE WARRANTY CARD BEING RETURNED WITHIN THE SPECIFIED TIME PERIOD, THERE SHALL BE NO WARRANTIES OR OBLIGATIONS; EXPRESS OR IMPLIED HEREUNDER, SPECIFICALLY EXCLUDING ANY IMPLIED WARRANTY OF MERCHANTABILITY OR FITNESS FOR A PARTICULAR PURPOSE, OTHER THAN SPECIFICALLY DESCRIBED HEREIN. NO LIABILITY SHALL ACCRUE TO Decorate With Daria, Inc.; EXCEPT AS SET FORTH HEREIN.
Destination: United States

Carrier
Method
Shipping Cost
Per additional Item
UPS
Ground
$0.00
$0.00
Type
Instructions to Buyer
Paypal
AMEX
Money Order
DISCOVER
MASTERCARD
VISA
$0.00(Domestic)
$0.00(International)
Items must be returned within 30 days .
Refund will be given as Money back or exchange/replacement.
Refund policy details:
Return Policy: All returns must be shipped back at the buyers expense in the original crate, box, packing and on a pallet if it was delivered on a pallet. Refunds will NOT be given on any item that has been used and that cannot be re-sold as brand new. Refunds will not be given to any customer who refuses to have defective parts replaced per the warranty. All returns must have an RMA number.