4 PERSON SAUNA Sirona Hemlock 8 Carbon Infrared Heaters Bluetooth Touch Screen
4 PERSON SAUNA Sirona Hemlock 8 Carbon Infrared Heaters Bluetooth Touch Screen
Sirona 4 Person Hemlock Infrared Sauna with 8 Carbon Heaters

State-of-the-art Bluetooth Touch Screen Control Pad,
with High-performance Speakers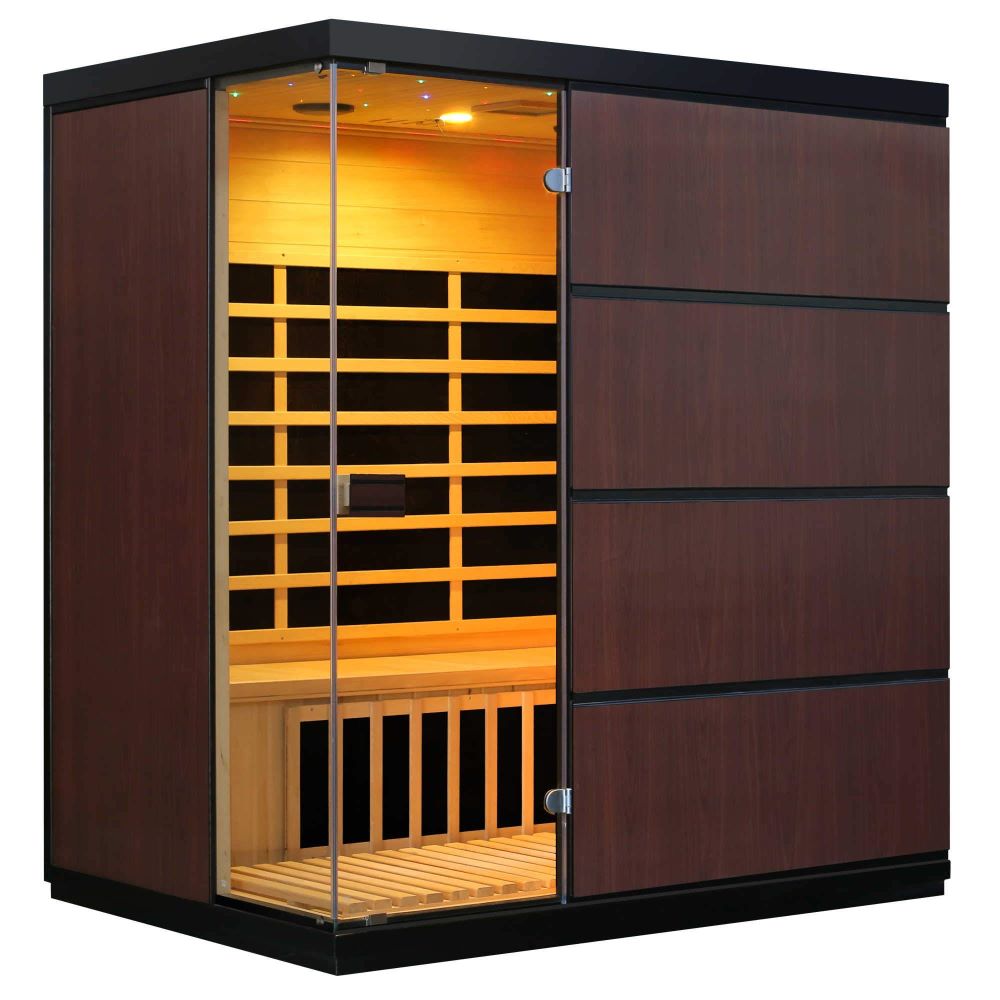 Description Unlike any other sauna on the market today, the Sirona Premium Sauna features a sleek contemporary design and unprecedented innovative technology.
The engineered wood exterior panels laminated to "A" Grade reforested Western Canadian hemlock provide maximum inner cabin heat-retention.
The stylish cabin design features an easy-clasp assembly system, safety glass, heavy-duty door hinges, commercial-grade heating panels, state-of-the-art Bluetooth touch screen control pad, high-performance speakers, interior lighting, chromotherapy and ceiling accent Star lighting.
The handsome rich mahogany melamine exterior panels accented in black add the final touches to this ultra-modern design that is certain to be an elegant addition to any interior space.
7-year limited warranty on wood structure; 5-year heating and electronics; 1-year radio.
For Inside use only.
Attributes:
Color: Mahogany, Clear
Materials: Hemlock
Mahogany melamine exterior panels accented in black

Assembly Required: Yes
Assembly Time: 2 Persons, 45 Minutes
8 Carbon Infrared Heaters: 2405 Watts, Commercial grade, ultra-low EMF
Operates up to 141 degrees F

Interior Dimensions: 65" W x 43" D x 68.5" H
Exterior Dimensions: 69" W x 47.2" D x 75" H
Interior LED touch screen control pad with built-in Bluetooth
2 Built-in high-performance speakers
LED interior accent lighting with remote control
7 Color Chromo-therapy light
Ceiling accent Star lighting
Interior reading light ambient lighting
Tempered 8 mm thick safety glass, brushed chrome accent hinges and hardware
Over-sized spacious bench seat and ergonomically-designed for comfort
Solid hemlock portable backrest for extreme comfort

Interior: 2 Spotlight Lamps: LED, 0.9 watts, 21-LM
Exterior: 2 Spotlight Lamps: LED, 0.9 watts, 21-LM
Power Source: Electric 120v
Wattage: 2405 Watts
UL / ETL / CETL: C22.2 NO.164
Glass Door: Tinted, 23.25" W x 60.875" H x 8mm thick
Warranty: 7-year limited warranty on wood structure
5-year Warranty on heating and electronics; 1-year Warranty radio, Registration Required
Shipping Weight: 450 Lbs.

LTL Freight Public Street, Curbside or Loading Dock Delivery only.
Truck will have a Liftgate.
Daytime Phone # required for delivery appointment.
30 Day Return for Cash Refund but ALL shipping charges will be deducted from your refund.
Returns: Customer must repack and re-crate the sauna just as it was delivered.
You are responsible for the cost of the return shipping fee when you return an oversized item for any of the following reasons:
You refuse a delivery without inspection
You miss a delivery appointment
You return a non-defective or undamaged product
All returned oversized items are fully inspected upon their arrival back at our warehouse.
We give a partial refund of the purchase price if the returned item is not in its new, original and unopened condition.
The amount of the partial refund depends on the condition of the item as determined by our sole discretion.
Destination: United States

Carrier
Method
Shipping Cost
Per additional Item
STANDARD
Economy
$0.00
$0.00
Type
Instructions to Buyer
Paypal
AMEX
Money Order
DISCOVER
MASTERCARD
VISA
$0.00(Domestic)
$0.00(International)
Items must be returned within 30 days .
Refund will be given as Money back or exchange/replacement.
Refund policy details:
Return Policy: All returns must be shipped back at the buyers expense in the original crate, box, packing and on a pallet if it was delivered on a pallet. Refunds will NOT be given on any item that has been used and that cannot be re-sold as brand new. Refunds will not be given to any customer who refuses to have defective parts replaced per the warranty. All returns must have an RMA number.