PET JOGGER SPORT STROLLER LG Max Load 60 Lbs EZ Turning Running Folding Green
PET JOGGER SPORT STROLLER LG Max Load 60 Lbs EZ Turning Running Folding Green
Large Size
Petique Breeze Pet Jogger / Sport Stroller
Color: GREEN
Stroller Size: All pets Up To 60 Lbs.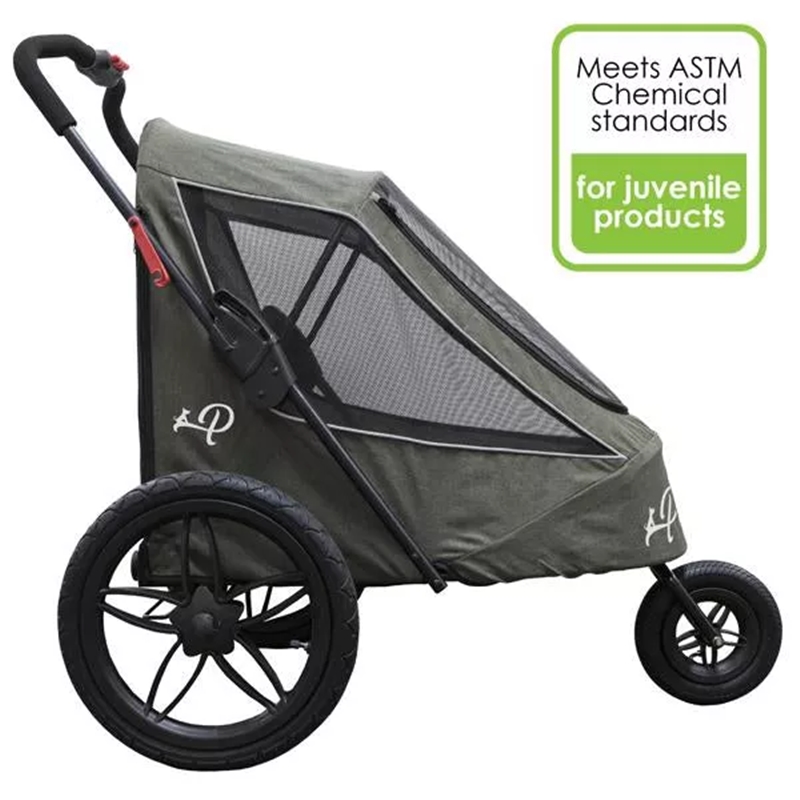 PRODUCT DESCRIPTION
Petique's Breeze Pet Jogger (aka the Pet Mobile, the Rolls Royce, the Ferrari of pet joggers) is engineered to create a performance-inspired ride for you and your pets to travel in. The large tires equipped with shock absorption and traction reinforces a smooth experience.
Even pets who had just gotten surgery will feel secure and comfortable. With our 360 degree well ventilated mesh windows producing enhanced air circulation throughout the pet jogger, your pets can relax in the comfort of their very own Breeze.
Features
Tested to meet the same requirements as baby strollers!

Three adjustable leashes for safety

One step dual wheel brake

Easy pop out wheels great for travel and folds flat for optimal storage

One large pocket for leashes, water, treats, etc.

Removable fabric for easy wash and make your jogger look good as new

Two entry ways, one in the front and one in the back

Reflectors for night time safety
One hand fold
Foam grip that is very comfortable for your hands

Supports pets up to 60 LB

Patented pee pad insert for messes and easy clean ups

Tire pump included
Benefits
Relieves anxiety/stress for your pets if they are not used to being outdoors
Supports Dogs, Cats, and other animals under a total of 60 LB
For pets who still get to be out even though they do not like to walk for long
Humans who can still exercise and take their pets out
Pets who are old or unable to walk and still enjoy being out
Pets who are healing from surgery
Puppies, kittens and other pets who have not been vaccinated
Pets who's paws need protection because the ground is too hot or too cold
Pets who's parents love to take them out traveling, biking, shopping, etc.
Humans who enjoy bike rides
Humans who like to run or jog for miles at a time

For pets who are unable to control their bowels
The back entrance is low enough for senior pets to go up themselves
Let us know in the reviews how the Breeze Pet Jogger benefits you and your pets
Care Instructions
Removable fabric for easy wash (gentle machine wash in a laundry wash bag)

Do not dry in dryer because the heat will damage the mesh

Line dry or air dry ONLY

Do not bleach
Dimensions
Product Weight: 23 LB

Product Size: 37"L X 23.5"W X 39"H

Front Tires 8.5"

Rear Tires 16"

Seat Space: 30"L X 17"W X 25"H

Supports pets up to 60 LB
Destination: United States

Carrier
Method
Shipping Cost
Per additional Item
UPS
Ground
$0.00
$0.00
Type
Instructions to Buyer
Paypal
AMEX
Money Order
DISCOVER
MASTERCARD
VISA
$0.00(Domestic)
$0.00(International)
Items must be returned within 30 days .
Refund will be given as Money back or exchange/replacement.
Refund policy details:
Return Policy: All returns must be shipped back at the buyers expense in the original crate, box, packing and on a pallet if it was delivered on a pallet. Refunds will NOT be given on any item that has been used and that cannot be re-sold as brand new. Refunds will not be given to any customer who refuses to have defective parts replaced per the warranty. All returns must have an RMA number.