SOLAR PANEL POOL 21' Round Above Ground Fafco 4'x20' Sun Heating System Made USA
SOLAR PANEL POOL 21' Round Above Ground Fafco 4'x20' Sun Heating System Made USA
Fafco Bear Solar Heating System for
Above-Ground Pools
12 Ft To 24 Ft Round
And
8'x12' /10'x15' /12'x18' /12'x24' /15'x24' /15'x30' Oval

FAFCO®s 40 years of innovation in the USA and patented technology have made it easy to heat your pool with solar energy.
Cold water is pumped from your pool through our patented solar collector design.
Like a garden hose lying in the sun, the collector heats the water inside, which is then pumped back into your pool giving you luxuriously warm water and a significantly longer swim season.

FAFCO® solar collectors feature:
A patented water flow metering system that distributes water evenly for maximum efficiency

A patented collector design featuring almost twice as many tubes per panel as our competitors for maximum heating performance

Durable, lightweight, ultraviolet-resistant polymer material that provides years of reliable service

Fully-wetted design transfers virtually all available energy directly to the pool water
Package includes 3' 9" x 20' Wide Solar Collector with 1-1/2" barb connections, 12 mounting caps, 12 mounting bases, 6 mounting straps, 1 valve handle and 20 rubber tube plugs.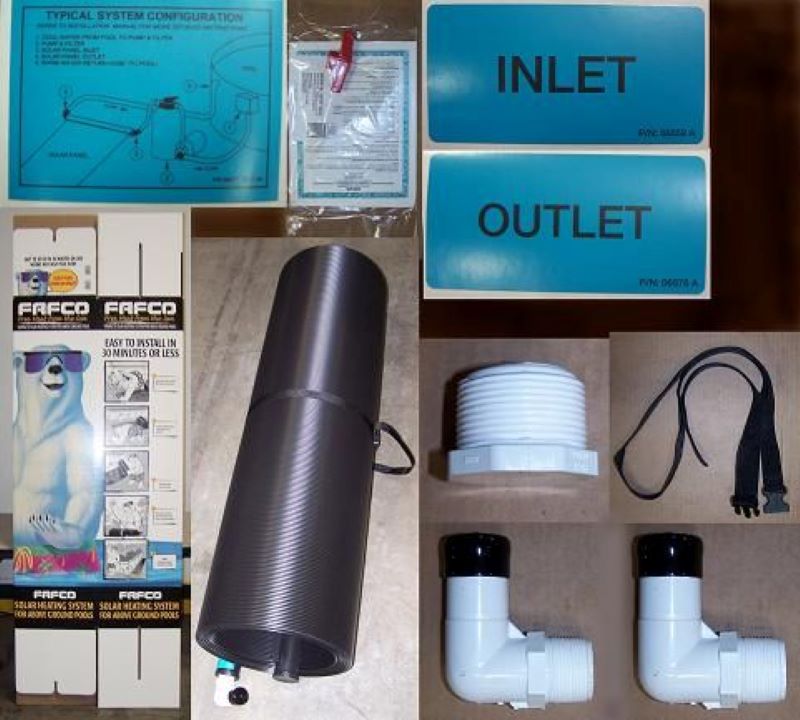 Pool pump circulates pool water through the heated solar collector.
Optimal heating with unobstructed sunlight between 10am and 4pm. Performs most effectively when tilted 10 to 30 degrees to the South.
Mount on the ground, on a rack, or nearby roof.
Additional materials required: 1-1/2" I.D. flexible hose and ground spikes (ground installation).
FAFCO has a product specifically designed to meet your solar pool heating needs.
FAFCO's solar pool heaters feature premium quality, superior technology, highest rated performance and second-to-none reliability.
It simply works - and keeps on working so you can enjoy evening swims from early spring through late fall in luxurious warm water.
The collector is a specially developed, highly stabilized polyolefin and is of parallel, circular channel design.
It is unglazed, uninsulated, and designed for low temperature applications such as swimming pool heating, heat pumps, aquiculture, and hydroponics.
Solar Bear's surface is fully whetted by pool water insuring the most efficient panel available. Extra-large 2-inch headers do not slow down your pool's circulation and ensure excellent solar heat transfer to your pool's water.
Smaller 1-1/2-inch headers can reduce your pool's circulation and cause solar heating to be compromised. Solar Bear systems are comprised of a single extra-large 4-feet by 20-feet collector with no couplings or connectors.
The system is made of U.V. stabilized polyethylene that is very tough and will last many seasons under direct sunlight.
The systems come complete with an integral bypass valve, so you can turn them on and off as needed.
Solar Bear panels can be mounted on the ground, on a rack, or a nearby roof. Complete installation and user's manuals are included.
10-Year Warranty. Put solar to work in your pool and swim in a warmer pool without the huge expense of heating it.
Manufactured by the premier company in the solar business (they have installed over 125000 solar systems), these panels have been efficiently heating swimming pools since 1972.
The Solar Bear Ultra Solar Collector is manufactured in Chico, California.
Note: For panels to heat optimally, they must receive unobstructed sunlight between 10 a.m. and 4 p.m.
Destination: United States

Carrier
Method
Shipping Cost
Per additional Item
FEDEX
Ground®
$0.00
$0.00
Type
Instructions to Buyer
Paypal
AMEX
Money Order
DISCOVER
MASTERCARD
VISA
$0.00(Domestic)
$0.00(International)
Items must be returned within 30 days .
Refund will be given as Money back or exchange/replacement.
Refund policy details:
Return Policy: All returns must be shipped back at the buyers expense in the original crate, box, packing and on a pallet if it was delivered on a pallet. Refunds will NOT be given on any item that has been used and that cannot be re-sold as brand new. Refunds will not be given to any customer who refuses to have defective parts replaced per the warranty. All returns must have an RMA number.