XL DOG WAGON Outdoor Beach Camping Max Load 110 Lbs EZ Turning Pet Stroller Blue
XL DOG WAGON Outdoor Beach Camping Max Load 110 Lbs EZ Turning Pet Stroller Blue
X-Large Size
Ibiyaya Noah All-Around Dog Beach Wagon
Color: Pacific Blue
Wagon Size: All Dogs Up To 110 Lbs.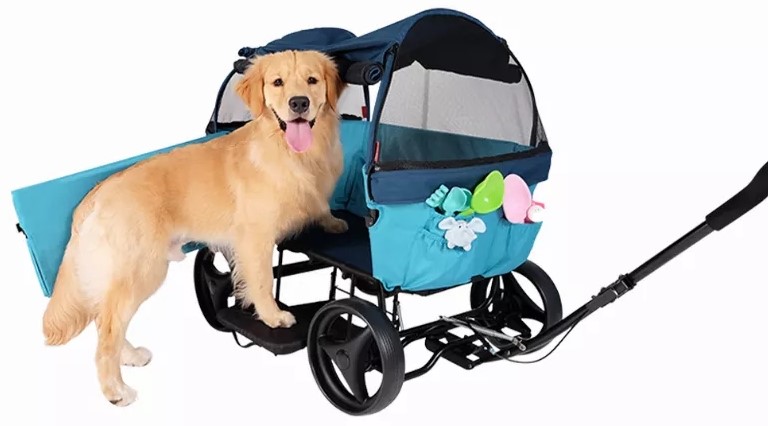 PRODUCT DESCRIPTION
PERFECT FOR OUTDOOR ACTIVITIES: The Ibiyaya's Noah All-around Beach Wagon for dogs is a specially designed wagon that will help you take your pet on all sorts of adventures during beach vacation, camping trips or other outdoor activities with family.

HEAVY-DUTY & SPACIOUS: Our extra large dog wagon is perfect for multiple pets or a large breed dog like Bullmastiffs, Bloodhounds, St. Bernards, Bulldog, Akitas, Retrievers, Belgian Malinois, Rhodesian Ridgebacks etc.. This extra large dog wagon has a maximum weight of 50kgs (110 lbs). Its durable frame supports even your biggest pup! Your kids can hop on with their friends too - no need to come up separately or be left behind when you're all going out.

360 MOVEMENT: You can get this big dog wagon in and out of tight spots with ease! Our handlebar comes equipped with a comfortable curved grip and hand brakes for easy parking.

MAXIMUM AIRFLOW: The detachable canopy of this extra large dog wagon comes with large mesh windows on all sides for excellent airflow, temperature control and ease of access. It also has a rollable cover so your pets can rest comfortably without any direct sunlight shining down onto them!

SAFETY FEATURES: This collapsible dog wagon is designed with auto-lock sliders that can prevent your pet from accidentally unzipping the zippers. Includes 2 sets of safety tethers, hand brakes, and a foldable staircase to access in and out effortlessly.

EASILY CLEANED & STORED: All fabric is removable and washable, even for the seat cover and stair footpad! Easily pull the lock to uninstall wheels, then fold and buckle up this extra large dog stroller wagon to store standing up or lying down in your car.

SNACKS & SUPPLIES STORAGE: This extra large dog stroller comes with side pockets for you to store drinks, snacks, accessories or anything you and your pets need!

SGS CERTIFIED / EN1888 CERTIFIED

Recommended Weight Limit: 50kg; 110.23lbs
N.W.: 17kg; 37.48lbs
Cabinet Opening Dimensions L87 W49 (cm) / L34.3 W19.3 (in)
Cabinet Bottom Dimensions L78 W35 (cm) / L30.7 W13.8 (in)
Cabinet Depth 30 (cm) / 11.8 (in)
Cabinet plus Canopy Height 60 (cm) / 23.6 (in)
*The cabin shape is an inverted trapezoid
Stroller Dimensions: L98 W68 H108 (cm); L38.6 W26.8 H42.5 (in)
Folded Dimensions: L100 W53 H26 (cm); L39.4 W20.9 H10.2 (in)
Accessories: Safety Tethers x2 and Removable pad
Care: Using cold water and mild soap to give the entire fabric area and canopy a good cleaning with a damp cloth. With a dry towel, wipe away excess water and soap. Let the fabric air dry in a warm place, but not in direct sunlight.
Destination: United States

Carrier
Method
Shipping Cost
Per additional Item
UPS
Ground
$0.00
$0.00
Type
Instructions to Buyer
Paypal
AMEX
Money Order
DISCOVER
MASTERCARD
VISA
$0.00(Domestic)
$0.00(International)
Items must be returned within 30 days .
Refund will be given as Money back or exchange/replacement.
Refund policy details:
Return Policy: All returns must be shipped back at the buyers expense in the original crate, box, packing and on a pallet if it was delivered on a pallet. Refunds will NOT be given on any item that has been used and that cannot be re-sold as brand new. Refunds will not be given to any customer who refuses to have defective parts replaced per the warranty. All returns must have an RMA number.